iPad Initiative
"Equipping Emerging Ministry Leaders with Today's Technology"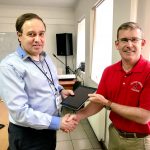 Through an active partnership between Future Leadership Foundation, William Jewell College, Minsk Seminary, Ukraine Baptist Theological Seminary and your help we can help equip pastors, seminary & Bible College students and their faculties with 21st technology for the work of the ministry.
THE PARTNERSHIP
Future Leadership Foundation
William Jewell College
Minsk Seminary
Ukraine Baptist Theological Seminary
Your Gifts
THE TECHNOLOGY
iPad 2 [32 GIG w/WiFi]
TOTAL INITIATIVE COST
$125 per unit
WHAT CAN YOU DO?
For $42 per unit, you can complete the purchase of an iPad for 1 STUDENT
BENEFITS TO STUDENTS, FACULTY, PASTORS, CHURCHES
• Portable access to ministry resources
• Constant connection to the education process
• Enhanced classroom effectiveness
• Collaboration and communication brought to churches
• Open new areas of ministry
• Help students apply the education experience to practical ministry
• Develop strong communication student to student, teacher to student, schools to churches
HOW CAN YOU CONTRIBUTE?
1. Checks should be addressed to "Future Leadership Foundation" PO Box 865 Jefferson City, Missouri 65102. Please note "iPad Initiative" in the memo.
2. Online gifting is available online.
Future Leadership Foundation is a 501 C3 Non-Profit Organization. All gifts are tax deductible.